Welcome to the (un)Official S.K.I.L.L. Special Force 2 Wiki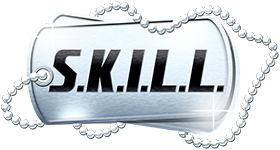 All there is to know about the European version of "S.K.I.L.L. Special Force 2 " published by Gameforge .
Introduction by Gameforge:
Skill Special Force 2 is an action-packed shooter for elite soldiers: fast, intense and designed for multiplayer battles. Weapons and equipment items reproduced to look exactly like the originals, individually customisable characters, diverse maps and a large number of game modes all ensure long-term gaming fun.
Throw yourself into gripping combat on your own, or in groups of up to 16 friends in multiplayer mode. Thanks to the Unreal Engine 3 and the professional sound design, these authentic battles will get under your skin. Enjoy classic first person shooter action and discover fascinating modes in which you can go out alien hunting on your own or become a Sectoid yourself.
Register and Download the game now: [ Register ][ Download ] [ Download on Steam ]
Or join our Community on the Official Board: [ Official Board ] [ Steam Board ]
Table of Content (Pages)